This post contains affiliate links. I only promote products I truly love & feel are a valuable resource for my readers. For more information, please see my
disclaimer

.

This post has been compensated by Collective Bias, Inc. and AcneFree. All opinions are mine alone. #AcneFreeSummer #AcneFreeLife #CollectiveBias
It's that time of the year again: back to school. Back to college to be exact. It's time to start a brand-new semester and hit the books. College is a fun and unique experience, but the workload can become stressful at times!
I struggle with acne-prone skin and if you're anything like me, stress causes you to break out big time. I've been suffering from acne since I was a teen and am still dealing it in my twenties. Acne breakouts are annoying and are the last thing anyone wants to deal with on their first day of school. This season is the perfect moment to show off your back-to-school looks and feel confident when you first set foot on campus.
So in honor of going back to school, I've been using AcneFree's products in my daily routine and it has changed my skincare game for good. Between assignments and deadlines for school and keeping up with my social life, AcneFree has made acne and skincare one less thing to worry about.
The three products I use are AcneFree's 24 Hour Acne Clearing System, Oil-Free Acne Cleanser, and the Maximum Strength Terminator 10 from their line. I picked up these products at my local Walmart and I've been extremely pleased ever since I started using them. These products have been major lifesavers and are so easy to use. AcneFree's line of products is known for its targeted solutions and 3-step systems that treat and take care of acne-prone skin, using clinically proven ingredients meant for both facial and body acne treatment.
Step 1: Oil-Free Purifying Cleanser
The first step in my skincare routine is using AcneFree's Oil-Free Purifying Cleanser. This cleanser is super gentle and contains Micro-Benzoyl Peroxide. It leaves you with a deep clean because it contains microbeads the remove dirt and oil from your pores.
This product leaves my skin feeling amazing because it removes bacteria and penetrates deep into pores! I pour a quarter-sized amount into the palm of my hand and work it into a lather in a circular motion on my face. Then, I wash it off, gently towel dry my face, and move onto the next step.
I love this cleanser so much that I purchased the larger version of it as well! It is perfect for times where I need to wash my face quickly. I use the cleanser and along with a facial brush when I am in a hurry to still get that deep cleanse in a pinch.
Step 2: Renewing Toner
The next step is the renewing toner. I grab a cotton round and apply a bit of the toner on it. Then I apply it on my face and let it absorb. I always worry that toners can be harsh and drying, but this one isn't! This toner refines your pores, controls your oil, and balances uneven skin tones.
It contains aloe, vitamins, witch hazel, and chamomile and you can even use it on your chest and back.
Step 3: Repair Lotion
The Repair Lotion is the third step in the 24-hour system. I apply a bit of lotion all over my face and let it dry. This lotion is awesome because offers 24-hour continuous clearing for acne-prone skin. It stops acne in its tracks and prevents future breakouts. It's a great way to seal the deal after cleansing and toning your skin because it is not too heavy and works wonders.
Like the rest of the products, this lotion can be used twice a day – morning and night.
Step 4: Maximum Strength Terminator 10
The last step in my skincare regimen is the Maximum Strength Terminator 10. This product is a medicated prescription grade spot treatment that contains advanced micro-benzoyl peroxide. It's heavy duty and the perfect finishing touch for your skincare routine.
It controls redness, fights breakouts, and soothes skin. I dab a small amount on my acne before bed and leave it overnight. Then I rinse it off in the morning and voila! It works fast and helps clear up my skin quickly. I have noticed a huge improvement in my skin since using this product along with the 24-hour system!
And that is a wrap! This is my go-to skincare routine for heading back to college to make sure I've got clear skin and confidence on the first day of school. These products have definitely improved my skin and have prepared me for the new semester ahead!
---
Are you looking for a great skin care product for back to school? Hover over the photo below to try out AcneFree's line of products!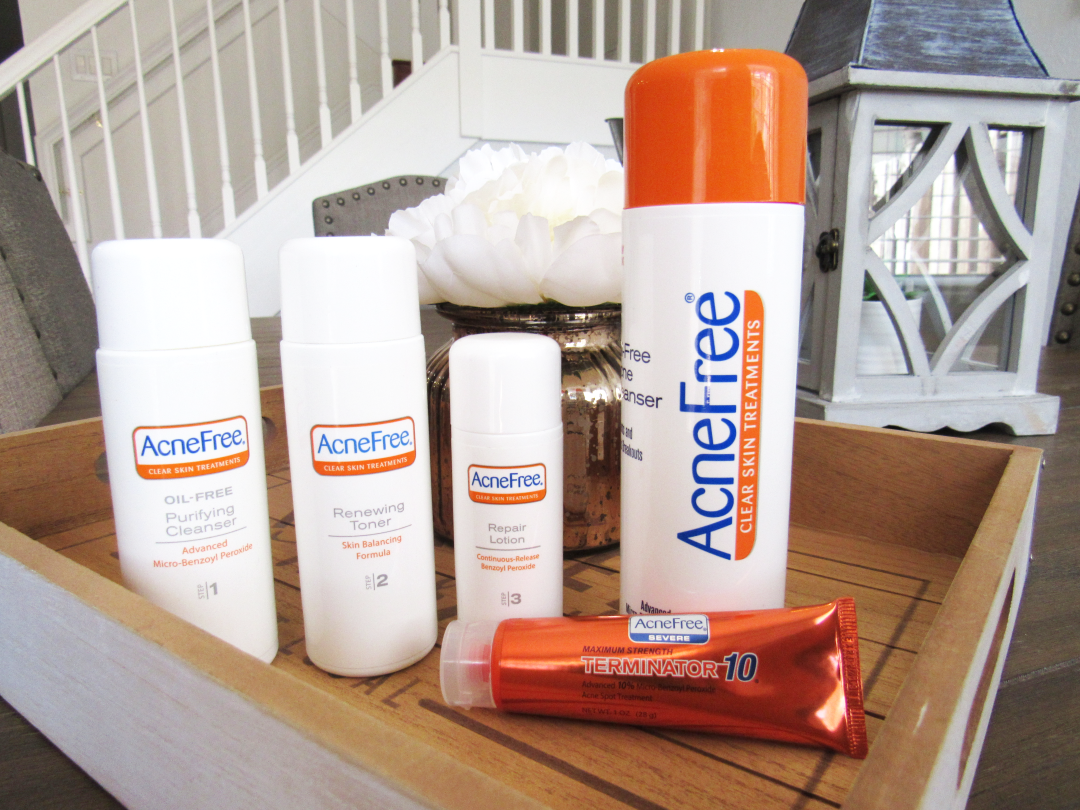 P.S. Enter to win! #AcneFreeChallenge
Participate in the #AcneFreeLife Sweepstakes – See Visible Results in As Few As 3 Days!
Starting today, AcneFree is launching a 4-week sweepstakes! 3 Grand Prize Winners will win $1,000 spending money and AcneFree Supplies for a year. Additionally, AcneFree will give away 10 AcneFree® 24 Hour Acne Clearing Systems every week for 4 weeks!
No Purchase Necessary. To enter, simply enter your name and email address at http://cbi.as/9rasp Use the form to follow on Instagram and Facebook to earn extra entries.
For more information full rules, log on to http://cbi.as/9rasp
Have you tried AcneFree before? Let me know what's your skincare routine for acne-prone skin below!